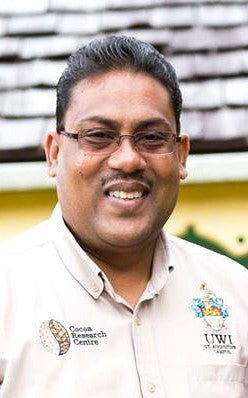 Meet the Presenter - Dr. Darin Sukha
CocoaTown's next webinar in the Empowering Chocopreneurs© is "Post-harvest Processing and Its Effects on Cocoa Bean Quality" webinar in collaboration with Cocoa Research Center in Trinidad, presented by  Dr. Darin Sukha.
Dr. Darin Sukha is a Research Fellow at the Cocoa Research Centre, The University of the West Indies(UWI), St. Augustine, Trinidad & Tobago. He holds a PhD in Food Science and Technology. For the last 25 years has been leading the Food Technology Section that works in four thematic areas: 
Research
Training and outreach
Quality management 
Product development
Dr. Sukha's research activities are geared towards 
Producing technology toolkits for fine or flavour cocoa in micro and varietal based fermentations 
Traceability and quality standards
Niche marketing 
Geographical Indications
Cocoa bean quality certification 
Development of cocoa based products (food and nutraceutical)
He is also actively engaged in local, regional, and international training and outreach activities on cocoa post-harvest, quality management, sensory evaluation, chocolate making and standards development.
Darin has also carried out four cycles of joint CRC/CocoaTown training in bean to bar chocolate making intensive 3 day boot camp for 40 persons at CocoaTown, Atlanta GA USA between 2016 – 2019.
A brief introduction to Cocoa Research Centre:
Since 1930, the Cocoa Research Centre (CRC) was established as part of the predecessor institution to the University of the West Indies (UWI), the Imperial College of Tropical Agriculture, Trinidad and Tobago.  It has continued its research and development mandate unabatedly over the past 90 years making the centre the oldest cocoa research institution in the world.  The CRC is a centre within the University of the West Indies (UWI) and has been contributing to the global cocoa industry as a leader in the conservation and characterisation of cocoa germplasm.  It curates the International Cocoa Genebank Trinidad which is the largest and most diverse collection of cocoa varieties in the public domain (0ver 2,400 different cacao varieties from around the world).  
The CRC also collaborates with international researchers in pathology, molecular diagnostics, and morphological characterisation. Other areas of activity include, factors influencing chemical and sensory quality attributes, optimisation of micro-fermentations, development of cocoa quality standards, DNA fingerprinting and genetic diversity, cadmium mitigation, and improving the efficiency of propagation. CRC also supports business entrepreneurs through its activities in international developmental projects and training programmes.
Please join the webinar "Post-harvest Processing and Its Effects on Cocoa Bean Quality"
Saturday 12th December 2020 10:00 AM to 12:00 Noon Atlanta TIme USA
---
Older Post
Post-harvest Processing and its Effects on the Cocoa Bean Quality
Newer Post
Midunu Chocolates