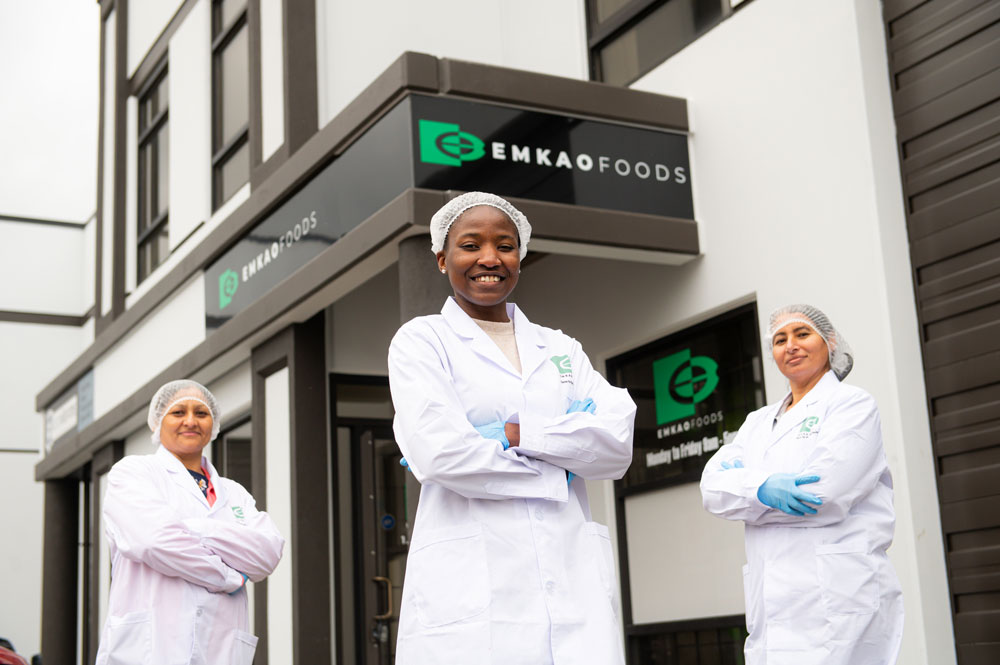 Meet Ayissi Nyemba
Join us Saturday July 24 as Ayissi Nyemba CEO & Founder of Emkao Foods guides us through the struggles and strengths of cacao farming in Cameroon. She will provide helpful information for cacao farmers the world over. She will also share about her company and her efforts to bridge the gap between farmers and chocolate makers to establish a system that works in favor of all involved.
Meet Ayissi Nyemba,
 FOUNDER & CEO, EMKAO FOODS

MISSION, BRITISH COLUMBIA – Growing up in Cameroon with five brothers and sisters, Ayissi Nyemba has fond memories of running around Kotou Farm, her family's cacao plantation. From a young age, she gained an astute appreciation for all the sweat and hard work that went into growing cacao - the raw and natural form from which cocoa is produced. In Cameroon, cacao production and export contributes significantly to the national economy and to support poverty alleviation. Ayissi understands the immense challenges and inequity faced by her family and Cameroon's many cacao farmers. Ayissi was convinced that they deserved better, and that she was going to help. With the belief that education is a means to creating change, Ayissi's parents sent her to school in France at a young age along with her siblings. While completing her undergrad in marketing at university of École de Commerce ICOGES in Lyon, Ayissi took the opportunity to study at École Chocolat where she received designations as Professional chocolatier and Maitre chocolatier. With a vision to expand her horizons, Ayissi packed her bags and moved to Canada to complete her Master's degree in Marketing at the University of Sherbrooke. Never letting go of her vision of helping the cacao  farmers of Cameroon, while studying at university Ayissi started concocting the idea of importing cocoa beans to Canada. Starting with her parents' fair-trade cacao farm, Ayissi wanted to import and manufacture high quality, certified organic, single source cacao beans, and process it in Canada for distribution. Ayissi's father, a PhD in agronomy committed to growing sustainable, organic, cacao beans and paying workers a 
sustainable
living wages, was fully supportive of the idea. Reallocating her school tuition fees, Ayissi took the money and in 2015, moved to British Columbia where she felt she would have a better chance launching her company and selling her products.
With help from Small Business BC, Innovate BC's Agriculture Venture Accelerator Program (AVAP), RADIUS, a social innovation hub based out of SFU's Beedie School of Business, and e@UBC, a social innovation incubator, a business plan for EMKAO Foods was borne – a start-up food processing company focussed on the production of single-source chocolate, cocoa butter, cocoa powder and related products. After aggressive fundraising campaigns, Ayissi was able to raise $600,000 and the EMKAO Foods factory was ready to start construction. Ayissi's vision was slowly being realized. Located in Mission, the 3000 square foot facility and home to EMKAO Foods opened in February 2021. The factory produces single source, traceable cocoa nibs, cocoa paste used to make chocolate bars, cocoa butter for white or milk chocolate, cocoa powder for ice cream and dark vegan chocolate chips for wholesale distribution. One of only two cocoa producers in Canada, EMKAO is invested not only in offering a high-quality product, but also transforming what it means to produce chocolate at every stage of the supply chain. EMKAO accomplishes this using a direct trade model and endeavouring to be the most sustainable and ethical chocolate maker in Canada. By taking a lead role in supporting women's involvement and employment in agriculture, and implementing best practices for paying female workers directly, Ayissi wants to break the cycle of gender inequality common in the local Cameroonian economy. 
As a minority, female entrepreneur and single mother of a young child, it has been a long and challenging road for Ayissi, but one that she is incredibly proud of. Thanks to her extraordinary tenacity, infectious spirit and the incredible support that she has had from the local community, though many thousands of miles away from her hometown in Cameroon, Ayissi Nyemba has changed the lives of others and is an inspiration for many. Located in Mission, British Columbia, newly launched EMKAO Foods imports organic cacao beans from Cameroon to produce single source, traceable and sustainable chocolate products. 
EMKAO Foods
 is 
one of only two cacao producers in Canada. For 
more information, visit
www.emkaofoods.com
.
Topic: From Farm To Chocolate with Ayissi Nyemba CEO & Founder of Emkao Foods
Date: July 24, 2021
Time: 10:00 AM - 12:00 PM Atlanta, USA time 
---
Older Post
From Farm To Chocolate with Ayissi Nyemba CEO & Founder of Emkao Foods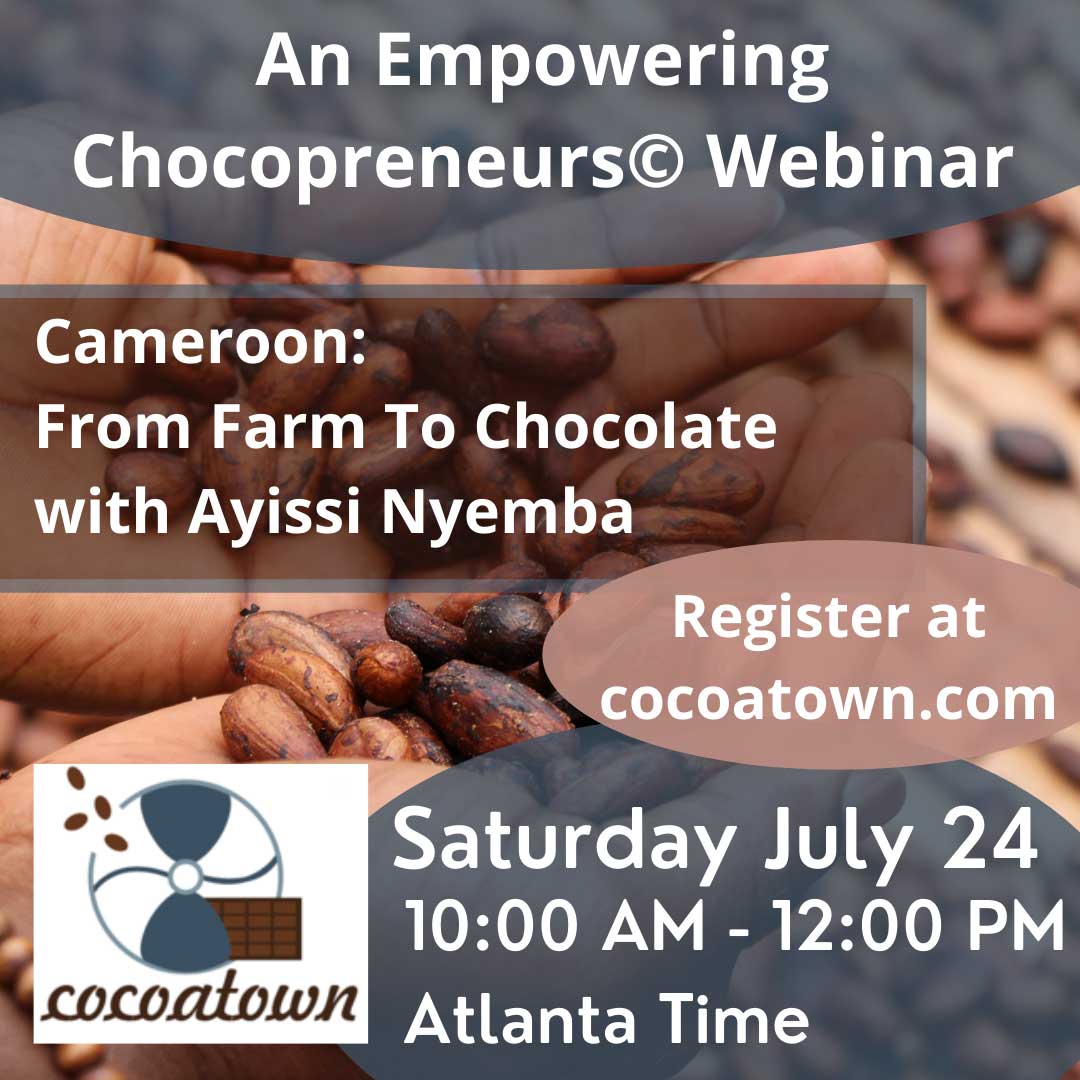 Newer Post
"When Money Grew On Trees" - The Ethnobotanic Studies of the Cocoa Tree