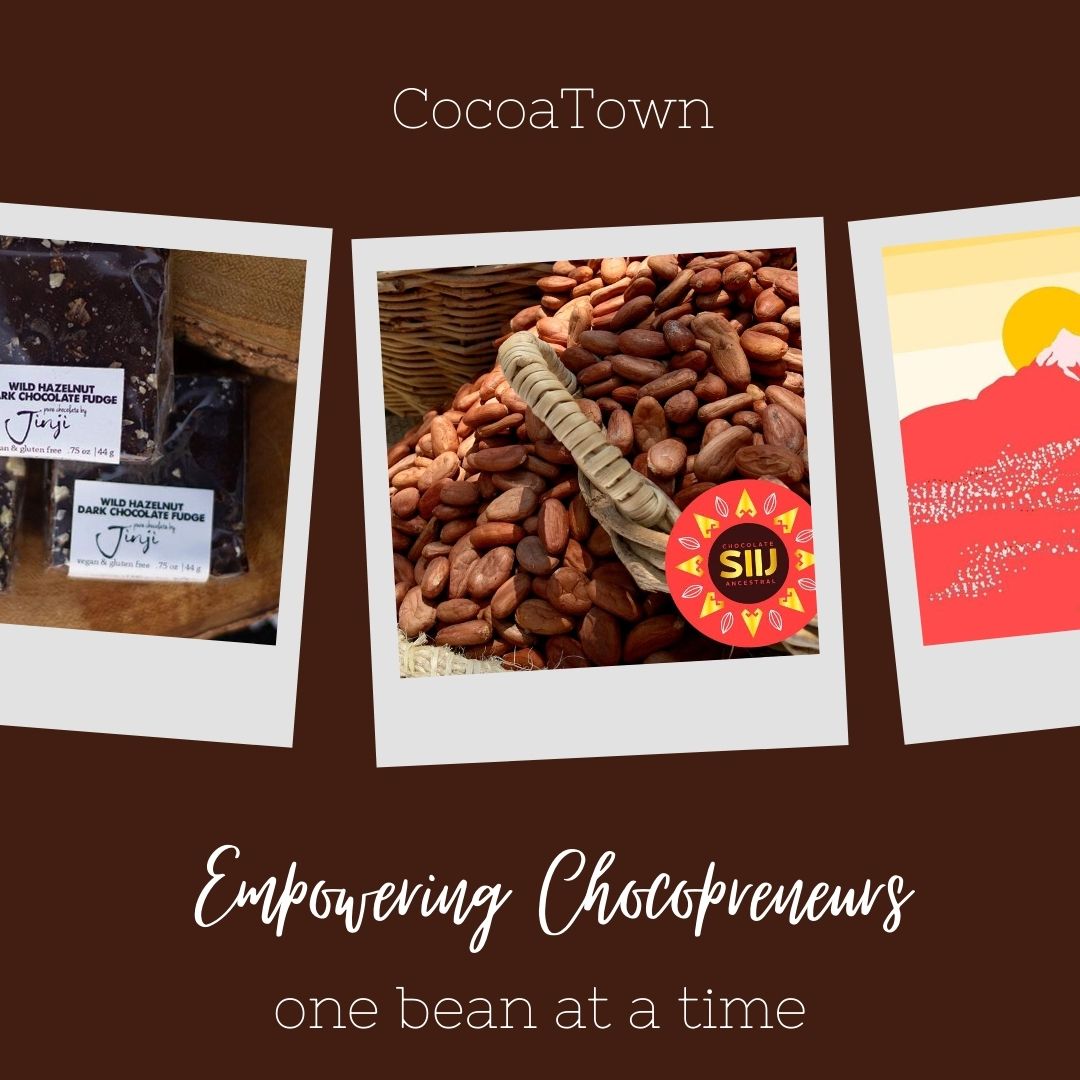 Empowering Chocopreneurs©
Empowering Chocopreneurs©
We are always trying to find new ways to empower our customers. 

Under the current situation, we are hearing from some of our customers that they are looking for a way to publicize their company and products to more people. When Ms. Andal Balu, co-founder of CocoaTown, participated in a minority empowerment webinar she heard from many of the participants who suggested that companies should help empower small budding businesses through what was called the #sharethemic format.

We listened and decided to expand our current campaign we call Fun Fact Friday where we highlight those in the bean to bar business to support them and help build awareness of bean to bar and their business.

We decided that twice a week we want to showcase you and your company and let your voice be heard on our Blog, Facebook and Instagram.

You send us the pictures, company information and any other information you want to share and we will put you in front of thousands of our customers around the world.
We at CocoaTown are not in business just to sell machines but in the business of creating chocopreneurs around the world and empowering them regardless of their race, religion, or economic status. Here is an opportunity to help us help you.

Please do not hesitate to contact us if you need more information.  We look forward to spotlighting your company.  


Here are a few companies who have participated in our Fun Friday campaign in the past.


"Historical background has shown us that Tabasco, Mexico is the cradle of chocolate. Let me tell you that Siij Chocolate Ancestral S A S was born in the same cradle, a brand with cultural heritage from the past and vision for the future.

At Síij Chocolate Ancestral, we keep in mind the historical traditions of the Olmec culture when making chocolate from washed cocoa beans.

We take advantage of this time to show you what our washed cocoa beans look like and the bars of chocolate we produce. It is good to be lavado it is good to be delicious"" - Reyna Flores - #SíijChocolateAncestral


According to Carmen at Scrap & Chocolate their packaging creation process is a very special part of their daily job. They are constantly looking for new ways to make handy packaging that allows them to present beautiful and unique designs and, at the same time, use fewer materials. Handmade packaging has been their brand identity since Scrap & Chocolates was founded in 2013. They still believe that there's nothing more personal than handmade packaging for such special chocolates as Scrap & Chocolates' bars.

At CocoaTown we are happy to be a part of Scrap & Chocolates' bean to bar journey. We love their Eco-friendly designs. If we had to select a favorite it would probably be the special wrapper that includes the traditional Peruvian hand-woven fabric. Good thing we don't have to pick a favorite! #Scrap&Chocolates
Arun Viswanathan -  Chitra'm Chocolates -  Coimbatore, India 
Arun Viswanathan is an entrepreneur in the culinary arts, running more than one chocolate-inspired enterprise. His bean to bar brand Chitra'm craft chocolate started in 2018 as a tribute to his mother Chitra, who played an integral part in his career as an entrepreneur and chocolate maker. His Chitra'm Mango Lassi Milk Chocolate bar won the bronze medal at the International Chocolate Awards world final in the first six months of launching the brand. Chitra'm's Maringa Lemon White Chocolate and his 70% Dark Chocolate with Palm Sugar bars won awards in their respective categories at the Asia-Pacific level. He also runs a company called Ganache which focuses on corporate gifting of fine chocolate.

As if these two endeavors weren't enough, Arun also runs a café called Infusions in Coimbatore, India that specializes in Indian fusion. At his café he creates some cacao-infused Indian foods.

One such dish he calls "Cacao Cocktail Idly". Arun had this to say about his dish: "The non-cacao version of it is used in India as a starter or a snack during parties especially with liquor. I conceptualized the dish on the basis of enjoying peanuts with chili powder traditionally. The crunch of peanuts is replaced with cacao nibs and the bitterness adds a different dimension to the dish. The idly is then fried and tossed in this cacao nib chili powder before being served with a tangy tomato chutney."

One such dish he calls "Cacao Cocktail Idly". Arun had this to say about his dish: "The non-cacao version of it is used in India as a starter or a snack during parties especially with liquor. I conceptualized the dish on the basis of enjoying peanuts with chili powder traditionally. The crunch of peanuts is replaced with cacao nibs and the bitterness adds a different dimension to the dish. The idly is then fried and tossed in this cacao nib chili powder before being served with a tangy tomato chutney."  #ChitramCraftChocolates
1 comment
---
Older Post
Trials & Tribulations of A Minority Business Owner

Newer Post
Changing Your Life Story Through Chocolate