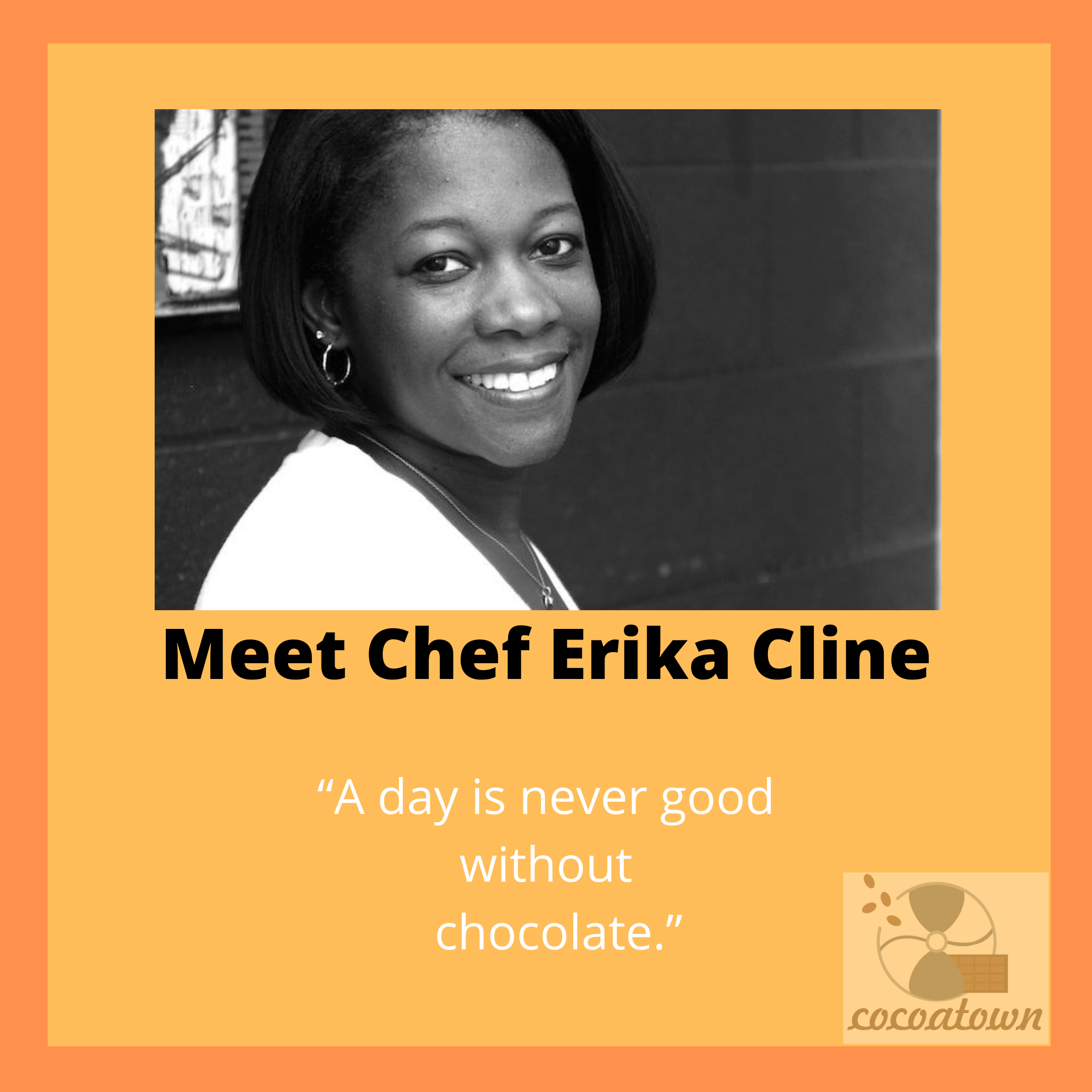 Meet Chef Erika Cline
Over the past 25+ years, celebrated pastry chef Erika Cline has crafted some of the country's most scrumptious desserts and chocolates.
Accolades of Chef Erika Cline
Started as a pastry cook under the Master Chef Milos
Opened and developed the Chocolate program for Gravcliff Chocolatier in Nassau Bahamas in July 2012
In the fall of 2012, Erika became Chef spokespersons of the Sunday Dinner Chefs for Publix Supermarkets
Showcased her culinary talents at the Black EXPO across Southeast United States and also Epcot Food and Wine in Orlando, Florida
One of Original 2010 chef contestants on Bravo's Top Chef Just Desserts
Won 3 competitions while receiving great acclaim about her cookies and tequila bombs by the Top Chef judges
Featured in The Huffington Post, Pastry Arts Magazine, Afar Travel Magazine, Black Enterprise and others
Served as a judge for the Food Network's Rock N Roll Pastry Challenge
Chef Erika created a non-profit organization entitled Culinary Wonders USA in 2008 to introduce, share, and cultivate the culinary arts to minorities.
She has supported various charity events such as The Kidney Foundation (Memphis Tennessee), Sulzbacher Center, Rhoda L. Martin Cultural Heritage Center Jacksonville, Florida), Food as Art, the United Negro College Fund (Seattle Washington) where she has raised over $36,000 over a 5-year period by auctioning her desserts for the beloved charity.
The Service Board (Seattle Washington) and Minority Chef Summit 2014 (Nassau Bahamas) (Port au Prince, Haiti 2015) and (Tortola BVI 2017) are other charities she has given her heart to.
In 2016, Chef Erika opened a chocolate boutique named Bleu Chocolat
In the fall of 2017 Hurricane Irma destroyed her home and business, Chef Erika has rebuilt her chocolate brand in Jacksonville Florida.
James Beard alumnus and has been a featured chef at the James Beard House for the West Indies dinner 2017 and 2018 for an all women chef dinner
A featured chef at the James Beard Awards gala in Chicago Illinois in May, 2018
Post Covid Erika is mixing her love of pastries/chocolate with the essentials that everyone loves "Coffee".
Teamed up with a black owned company called "Crazy Beans Coffee" as their General Manager and Corporate Chef.
Chef Erika's long-standing motto "A day is never good without Chocolate" is the trademark of an accomplished pastry chef and talented chocolatier.


The Bean to Bar Chocolate Making Process with Chef Erika Cline
For the first in a three month long series join CocoaTown and Chef Erika Cline for an overview of the bean to bar chocolatemaking process. This webinar will be perfect for anyone who wants to get started in the business or learn how chocolate is made from cocoa beans.

Monday Sept 21st

10AM - 12 Noon Eastern Standard Time
---
Older Post
Changing Your Life Story Through Chocolate
Newer Post
Bean to Bar Success Story