Global Power
New markets, supply chain solutions and entrepreneurialism contribute to Georgia's continued international trade success.
By Philippa Maister | June 29, 2022  | https://www.georgiatrend.com/2022/06/29/global-power/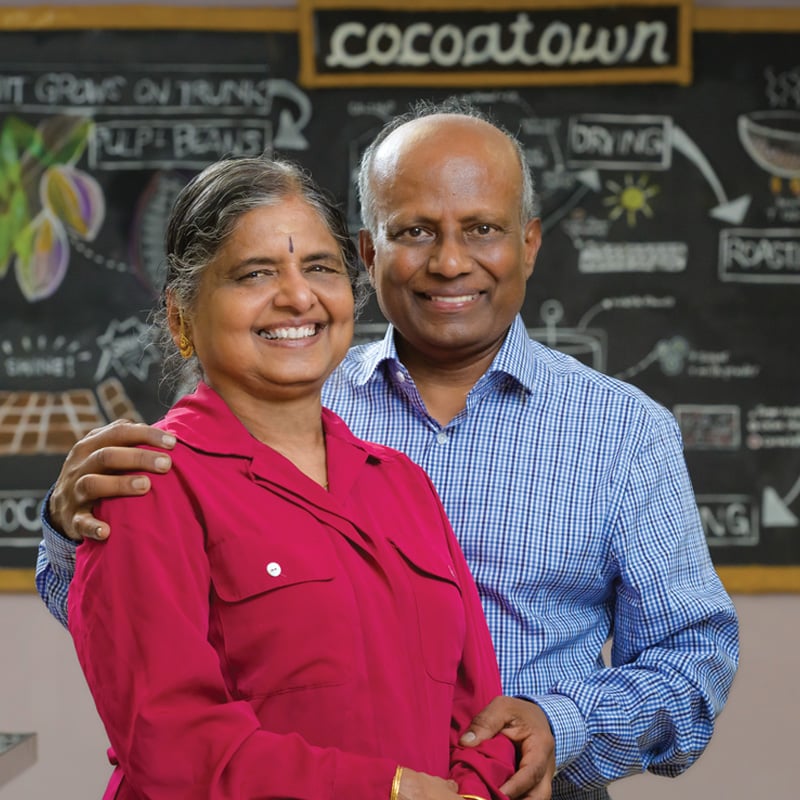 Finding an Export Niche: CocoaTown founders Andal Balu, left, and Balu Balasubramanian in front of a graphic depicting cocoa production Photo: DaemonPictures.com
CocoaTown, another Globe winner, found its niche by manufacturing equipment that enables small businesses to establish themselves as "bean-to-bar" chocolate makers. Balu Balasubramanian, who founded the 11-person company with his wife Andal Balu, says Cocoa- Town's machines enable small players to enter a market previously limited to big companies. The Alpharetta company now exports to over 100 countries, and foreign sales account for more than three-fourths of its revenue.
He credits the state's economic development department, the University of Georgia (UGA) Small Business Development Center (SBDC) and other agencies for making the company's success possible. "They helped us in trying to understand the culture and the marketing, in doing research and finding partners to work with. When they go out of the country, they exhibit our products and help us to arrange meetings at trade shows," Balasubramanian says. His company has also received help in handling the challenges of shipping and other technical issues.
This is part of the original article. To read the full original article, visit - Global Power