Com R$ 10 mil, é possível ter sua própria fábrica de chocolate
---
Source: revistapegn.globo.com | Com R$ 10 mil, é possível ter sua própria fábrica de chocolate | 16 JUN 2015 | By POR PRISCILA ZUINI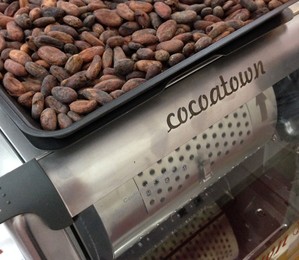 Máquina da Cocoatown
Pensando neste movimento, o casal de indianos Andal Balu e Balu Mannarsamy Balasubramanian criou a Cocoatown, que fabrica máquinas compactar para produzir chocolate. Uma pequena fábrica, com equipamentos da empresa, pode custar R$ 10 mil.
"Sete anos atrás, as pessoas não tinham ferramentas para fazer o próprio chocolate. E montar uma fábrica era muito caro e exigia um espaço enorme. Não bastava conhecer o produto. Era preciso saber a engenharia por trás", diz Andal.
Os empreendedores observaram o crescimento da produção de cervejas em casa nos Estados e viram uma oportunidade de expandir essa moda no mercado de chocolates. "Fizemos uma pesquisa por dois a três anos e a primeira maquina que lançamos é chamada de melanger [faz a mistura do chocolate]. Hoje, as máquinas podem moer e torrar as amêndoas e misturar os ingredientes. Elas são fáceis de usar e gastam pouca energia", diz Andal.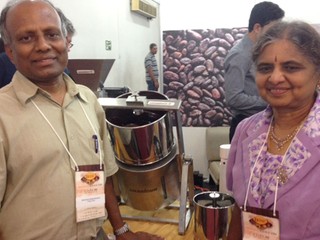 Balasubramanian e Andal, da Cocoatown  
Unidos por um casamento arranjado, a botânica e o químico uniram suas formações para criar máquinas para nichos.  A Cocoatown é um braço da Inno Concepts, criada pelos empreendedores em 1992, para suprir a demanda de utensílios da cozinha indiana nos Estados Unidos.
Os produtos estão disponíveis em 17 países, como Japão, Equador, Colômbia, Peru, Nova Zelândia, Austrália e Alemanha. "Nos Estados Unidos, mesmo grandes empresas como Mars usam nossas máquinas em laboratório para testar novas receitas", afirma. Andal e Balasubramanian apresentaram os equipamentos durante o 7º Festival do Cacau e Chocolate, em Ilhéus.
A expectativa da dupla no Brasil é instalar máquinas para pequenos produtores de cacau. "Acreditamos que as maquinas podem beneficiar muito os pequenos produtores de cacau, aproximando o consumidor do produtor através da internet", diz Balasubramanian.    
Para os consumidores que querem começar o negócio, a sugestão é começar investindo na melanger. "A torra pode ser feita no forno e a quebra as amêndoas em pedaços pode ser feita com um rolo. A melanger tem duas funções: moer e conchar [termo usado para a misturar o cacau até virar chocolate]", diz. Esta máquina está disponível em dois modelos: para quatro quilos (US$ 500) e 15 quilos (US$ 1250).
Read original article here - 
Edna N, Philippines
""I would like to take this opportunity to thank everyone at CocoaTown for this chance of learning lots of things about cacao and chocolate making.""
Peter A, Nigeria
"I am very grateful for the opportunity to have watched the video recording. It was such a rich webinar. I fully appreciate this wonderful model of partnership which fosters and encourage us working together to escape this vicious circle of poverty that has been the lot of producers in origin countries."
Ellen and Rutger, Suriname
"With the Chocopreneurs Webinar Series a platform has been created that brings together professionals from all over the field on a multitude of industry-related topics, CocoaTown is further cementing their status as one of the mainstays of the craft fine or flavour cacao industry."